US navy destroyer USS Porter damaged in collision in Strait of Hormuz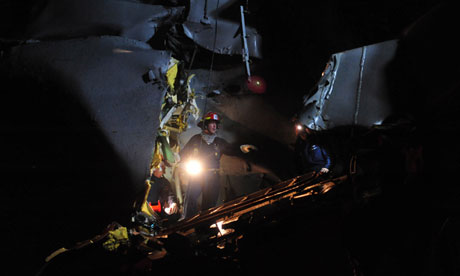 A US navy guided-missile destroyer was left with a gaping hole on one side after it collided with an oil tanker early Sunday just outside the strategic Strait of Hormuz.

The collision left a breach about 10 feet by 10 feet (three by three meters) in the starboard side of USS Porter. No one was injured on either vessel, the navy said in a statement.

The collision with the Panamanian-flagged and Japanese-owned bulk oil tanker M/V Otowasan happened about 1am local time. Photos released by the navy showed workers standing amid twisted metal and other debris hanging down from the hole.

The cause of the incident is under investigation, the navy said, though the collision was not "combat related". There were no reports of spills or leakages from either the USS Porter or the Otowasan, the Navy said. The USS Porter was heading to the nearest port to assess the damage.

The USS Porter is on a scheduled deployment to the US 5th Fleet, which is based in Bahrain, an island nation in the Gulf, near Iran.

The Strait of Hormuz, at the mouth of the Gulf, is a crowded and tense waterway where one-fifth of the world's oil is routed. Tensions have risen there over repeated Iranian threats to block tanker traffic in retaliation for tighter sanctions by the West. The sanctions are aimed at persuading Iran to abandon its uranium enrichment program, so far without success.

Tensions in the Strait of Hormuz show no sign of abating.

The United States stoked the flames recently with an announcement that it will send US navy minesweepers and warships into the Gulf for exercises. The US military maneuvers scheduled for September, to be joined by ships from about 20 American allies.

This is part of a Pentagon buildup in the Gulf with more troops and naval firepower, seeking to rattle Iran and reassure Saudi Arabia and Washington's other Gulf Arab partners worried about Iran's influence and power.
Why the fuck would anyone be "worried" about Iran's "influence and power"? The only influence and power Iran has is the manufactured influence and power in American mainstream media in the lead-up to an Israeli attack or maybe some false-flag excuse for American intervention.